6-Foot Track Marathon 2019 – That's racing Folks!
Download is here 6 Foot Track 2019 – The Race report I had to do
6 Foot Track 2019 was a race I prepared really well for. I finished Third in my Third attempt at the event – But things didn't quite go to plan for me this year.
I always say, you can't just look at the results, it never really tells the story of what happened. Even more relevant when looking at longer Ultra events, which contain long sections that runners often spend in isolation, out of sight of spectators. Splits alone are a guide and a clue to what could have happened.
The amount of people that have come up to me post event and said things like "What happened"? "Why was everyone so slow this year"? Clearly shows that a lot of people do take keen interest in times and genuinely want to know what happened. So for all those wondering about the race that was Vlad's 6 Foot Track 2019, and for my own sake, here it is!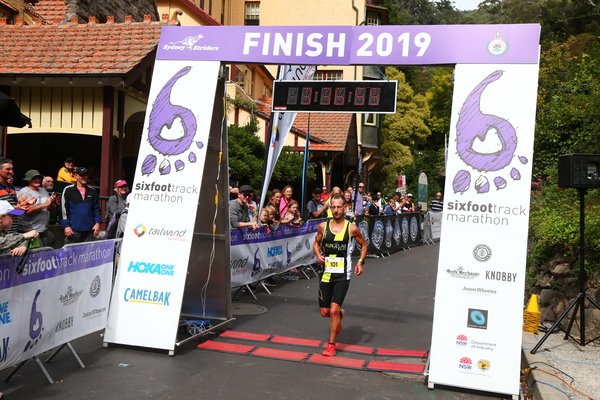 Id locked in doing 6 foot pretty much the day I did the race 12 months earlier in 2018. That day – Id had a great result, winning my second consecutive race, but I still had the hunger to aim for a better overall time. So I locked it in and it was a part of my training plans looking forward.
When you aim for improvement, you need to do something different in your training. Id consistently run very well over most sections of that particular race, but I had decided that I would target a great run on the section from the "Pluvi", which is at the top of the two long steeper hill climbs. Yeah its one of those cool things about established races, the nicknames and lingo that you share with those that have done the race before. You are part of a club, the language to others sounds foreign, and to those in the club though, these words often carry an emotional attachment to how you felt in that section – usually hurting to some degree.
I was pretty determined to be even stronger this year, run solid at the start and easily up the hill before putting the foot down and having a real crack at the record, claiming my third consecutive first place would naturally happen, if I could do this.
Training in the lead-up was spot on. I probably couldn't fault it really, and whilst my strava shows the overall volume and distances I did on a weekly basis, there is a lot more to it. On top of specific running sessions, I included either one of two carefully planned weekly strength sessions and some Yoga.
Maybe I was doomed before I started. This year's themed colour "Purple"? I mean common guys; did anyone else feel the same about this years purple apparel? ANYWAY
Its now four weeks post event. Immediately post race, I was pretty pleased that I had got third overall. It was a good result considering how I felt on the day and I was proud with how I had worked hard to get onto the podium. At the finish line there was a great buzz and it was pleasing watching so many friends and clients cross the line. The fact that Chez aka Wifey was there able to watch me finish this year was special, and so we all got to hangout and watch everyone finish and share in the rewards of everyone's hard work.
However in the days that followed, I had this really growing sense of disappointment come over me which took a couple of weeks to put to bed. I was simply annoyed that I wasn't able to run to my ability, but you get that. Some days you just don't feel great, and I didn't that day! But it's also good to get my shit race of the year out now.
Race week was pretty standard. I didn't really know who was racing and who wasn't due to some conflicting reports, but that didn't really bother me. I arrived in Katoomba on Friday just before lunch and went for a cruisy run feeling pretty fresh.
Morning of was an early start, like 3:45am. I had to catch a bus at about 5:30am and not wanting to miss the first bus, we had decided to line up from about 5:10am. We were at the stop where the buses didn't come on race morning! There was some communication issue and one of the bus operators just didn't show on race morning – quickly about 200 people started to get anxious about getting to the start. I had enough, I quickly returned to the hotel with a few of the guys and we just drove to the start and got dropped off, in the end we got there still with plenty of time for pre race warm-up.
Just before the start, I ran into Courtney, I knew he was my main competition this year and it was good to see him again, we cross paths quite a lot now due to our work and running commitments, but we had 45km to cover before we could really catch up! So off we went.
As usual it's a hectic rush to the stairs, I'm always near the front but controlled. Running down uneven steps in poor light isn't easy to say the least. I was quickly in a line of runners and I was sitting in about 5th spot. Unfortunately about halfway down, a couple of runners from behind, launched off the track to get around this now quite long line of runners knocking a few of us. In a split instant I was pushed straight into the guy in front of me who in turn slipped, fortunately within a few kilometres, Courtney and myself were 1 and 2 as expected and we were running quickly to the river.
I could tell pretty early on that Courtney was having a crack at going hard early, he was in front but never really out of sight and all the way to the river I would get glimpses of him looking back to see where I was. I had a wry smile knowing he couldn't get away from me. Times to the river were about equal record time and we launched out of the river onto the two hard climbs.
This next hour is key and I got into my own rhythm, I felt ok but not great, its how I felt all day. I kept saying to myself, look maybe in another few kilometres you will feel better but I just didn't.
So this year annoyingly, the hills felt hard. Of course they are hard always at this race, but I wasn't comfortable in my threshold zone like I am when I'm racing well. Things were just not quite right. Sometimes it takes you to be right near your limits for any underlying issues to be exposed. The fact that as soon as I finished the race I had a sore throat and in the proceeding days came down completely unwell and lacking energy, likely means there was a combination of fatigue and illness present that hurt me on the day. My workload (non running) the past 6 months or more has been really hectic. Put simply, I was unwell and fatigued and all it took was a max effort to tip me over the edge.
Back on the hills, I was still doing my thing – reeling in Courtney every time we hit steeper sections and eventually I overtook him a few kilometres before we reached the Pluviometer. So here I was out in front and hitting the section where I had trained to run fast! But I simply couldn't, I felt absolutely lacking in energy now. I was upset that I was running frustratingly slowly, and I knew that Id be run down by the runners from behind if I couldn't quickly find my legs.
I didn't find them (the legs), I was so pissed off with myself, I had trained so well, sacrificed a lot and thought I was ready – now when I needed too go, I couldn't. A sudden and complete wave of emotion swept me up in an instant – I was passed somewhere here by one or three runners, as I talked to myself sometimes out load and sometimes just to myself, some tears of disappointment were shed. I made a decision to stop and wait up for the first Runlabber, I simply thought, I cannot run my race today, but maybe I can at least help someone else? I'm not certain of time here as I was hurting physically and mentally but all in all I was stopped between short bursts of running for about 5 minutes
Long story short – I walked-jogged then ran again, but never great for the remaining 17km. When I was running again, I was still pulling those in front back –with about 8km to go I had got back into third place. I simply knew, no matter how I felt and how disappointed I was, I was going to work and get on that podium. I took a bad fall too, knocking the wind out of me – the scars still visible on my hand and leg now, that hurt and I was covered in blood when I finished.
So I guess that's why I was pleased with my run when I first finished, Id fought hard with myself and taken a bad fall – still to come Third. Processing all of the emotions and feelings though afterwards it was very much bitter sweet and I was so disappointed not being able to run to my ability on the day.
The times overall were slower why? Ok so this year the amount of fast runners was not as deep as it has been and many of the good runners in the field were either coming off other big races or had big races coming up, taking nothing away from the placegetters though and congratulations to them all.
Also Courtney and I had raced pretty hard for 2 hours and likely this also affected his overall time as compared to previous years. Conditions I thought were great for running, I simply wasn't meant to be running this day J
What's next? UTA 100 – NYC Marathon – UTCT 100 to name the highlights……
I have to say thank you to all of you that have taken an interest in my result, not only on the day but all the time. I'm grateful to be a part of your journeys too. Chez is great and just so simply matter of fact (you came Third that's amazing) and so are all my training buddies and friends and clients. My sponsors are fantastic too and take a genuine interest and care in how I'm going, for them it's not all about the results either. Thankyou Salomon – Suunto Nicholas Maj and my other team mates for being so amazingly loyal and decent Aviano – Elite Muscle Health – Isowhey – Lebent – Air Relax Australia, you guys all rock! There were many great runs on the day especially from Jason English and many of the Runlab Elites Luke, Sean, Benn, Andrew, Marty, Bucko and many more. Mohammed put on a great race and the volunteers, spectators and volunteers made it another memorable event. Thanks
Some Links you may be interested in.
Results
https://www.onlinetiming.com.au/2019-six-foot-track-marathon/#1_0E62C9
Instagram
https://www.instagram.com/vladdy_runlab/
Facebook
https://www.facebook.com/VladShatrovRunner/
Follow me on Strava
https://www.strava.com/athletes/12387974/training/log