Well the wait is over! Term 4 will be our most comprehensive timetable change as we move from Winter towards Summer and add in some extra sessions for you – our inspiring runners!
The detail is here below. Please take a look at it so you can familiarise yourself with not only the Schedule but the offering.
We are really looking forward to Launching the Trail groups again in 5 Weekly locations and adding in an additional Runstrong option to the Central Coast and Sundays in the Hunter! On top of that, a Runrecovery session in the Hunter every Friday morning 5:30am will allow you to recover ahead of the Weekends training sessions.
"The concept" at George Street Highfields is now the Hunter location for all our Runstrong and Run recovery sessions. This facility allows you to access the best functional training equipment and recovery equipment in the Hunter. One of the changes is that all Runstrong sessions are now $159 for the Term. There is an additional $5 payment per visit to be paid on arrival to "The Concept" for Runstrong or Run recovery – Unless you are a member/fitness passport member, and in this instance the $5 charge isn't payable.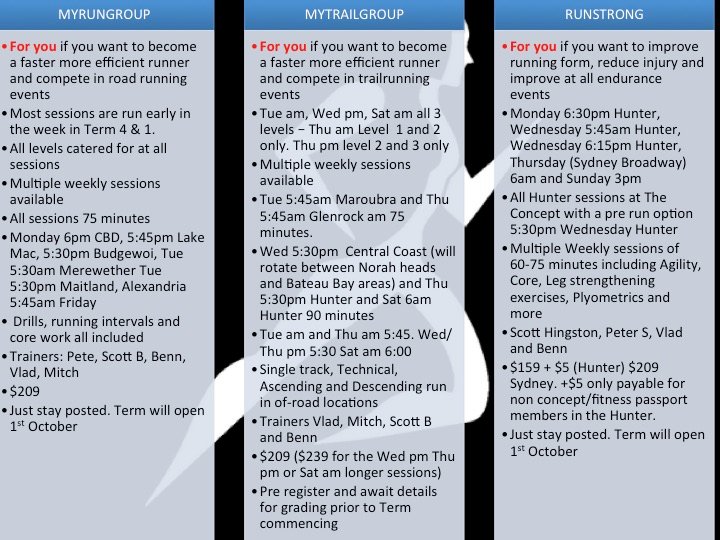 There will again be Monthly and Weekly payment packages available with details released of exact breakdown well ahead of term 4 opening.
Whilst most of the additions are in the Hunter and Central Coast – Sydney we will run some supersessions incorporating Trail running AND Technique for you during Term 4 on the Weekend.
COSTS
1 Group/Week = $209
2 Same Group/week = $209 + $59
2 Different Group/week = $209 + $159
3 Different Group/Week = $209 + $159 + $159
4 Different Group/Week = $209+ $159 + $159 +$99
Variations
The 3 Longer Trail sessions Wed PM Central Coast or Thursday PM Hunter or Saturday Am Hunter are $239 for the Term.
1 Runstrong/Week = $159 + $5 or $209 in Sydney
1 Mytrailgroup/Week (If its one of the Three longer sessions) = $239
1 Mytrailgroup + an additional Trail group or Myrungroup = $209 + $59. Except if the Mytrailgroup you are doing is one of the 3 longer sessions then it is $239 + $59. IF you do two of the Longer Trail sessions it is $239 + $79
The schedule at a glance