Tarawera Miler 2020
Before the race….
Following injury in April 2019 this would be my longest run since the Tarawera miler in 2019. Days after completing the event in 2019 I decided I would probably like to go back with better preparation, planning and training. I knew I could do better. My three main goals: finish the event in 2020, finish stronger and better including better recovery, and thirdly, and more for fun finish within 10 hours of the coach.
My injury had me out of running for four months and I made a slow return to running following a walk/run style program from my physio. It was a real test of patience and motivation but actually the structure of it helped me focus on my goals. I managed to complete the program and make a return to running in time for City to Surf in August (promising not to "race" it) and stuck to road running initially. I followed City to Surf with a build up to the Blackmores half marathon in Sydney, and by October I had completed the Melbourne Marathon. At this time my physio was actually surprised and asked if I'd had enough time to train for the event – nope, longest run of 2 hours a couple of weeks' before. This was a bit of a calculated risk and I appreciate there was some luck involved. I credit a huge part of my rehab to extra time spent in the gym doing strength training, and making stretching a part of my regular routine.
In terms of training for the miler, my biggest week of training was 118 km 5 weeks before the race. My longest run, also falling in that peak week was a 5 hour 42 km trail run around Glenrock, which as those local to Newcastle will appreciate wasn't much fun. On reflection after the race,this was the best training run to prepare for the mental side of that 120 km + point of the race.
Onto the race itself….
It was a bit of a whirlwind trip over to New Zealand and it was all a bit of a blur when I arrived home. I only had the day before race day to prepare myself. We found time for a 6 km shake out the morning before. It takes quite a while to have all of your drop bags ready, especially when you do not have a support crew. There are a lot of what ifs to consider. From my own perspective, sharing accommodation with two pro runners (a brave move?) was also a bit of an educational experience. It was interesting to see how they prepare themselves and the planning they put in in advance.
Race day came along abruptly with a 2:30 am wake up for a 4 am race start. Breakfast was two peanut butter rolls, a banana and a cold milk coffee followed by the usual kind of race day prep. A lift to the start at Te Puia  (thanks Will!) then a bit of a nervous walk to the start line set up right next an active geyser surrounding the whole area with warm mist. Add the pre race haka to that and you have a very unique atmosphere.
Knowing that when you begin the race you are likely to be running for at least a whole day and night actually settled the nerves a bit. For me, this probably sets the 100 mile distance apart from the 100 km distance. It becomes a very different race. There are plenty of chances to have good periods and bad periods. Stick to that simple plan: checkpoint to checkpoint. I tried to think of the whole race in terms of hours rather than any distances which seemed to help. It's also smaller numbers to work with.
Starting in the dark I knew I would have around two and a half hours running by headlamp through forest. The main pack of runners spread out reasonably quickly early on and I soon found myself running with just 3 or 4 other people at a time. Everyone has their own strategy, and early on there is no real point worrying about where other runners are around you.
One of the best parts of the course is the section between Buried Village (30.6 km) and Isthmus (45.9 km). Not only is it sandwiched between two long sections of road but the undulating single track alongside a beautiful lake is trail running at its finest. I was feeling quite comfortable and moving well. The only issues presenting themselves were 3 unscheduled toilet stops before Isthmus but luckily it all passed.
The boat crossing across Lake Rotomahana levelled up from last year. During my short wait for the boat to return I was greeted with a cold juice in a martini glass complete with paper umbrella. Instead of a camping chair on the boat I was able to recline on what could only be described as a lounge. It must have been quite relaxing as I accidentally paused my watch at some point which led to a bit of confusion about the time since starting. Before leaving the boat I did casually ask the driver about when the first runner arrived that morning – 8:10 am! That was about 2 hours before I arrived! I had a good feeling I knew who it was too.
The next couple of sections either side of Rerewhakaaitu (55 km) were long slogs along road so obviously not very memorable. By this stage I was looking forward to the forest roads which would give a bit of protection from the sun as it got closer to the middle of the day. That kind of thinking helped me get through the whole race. I would break it all up into sections then I would have an idea of the kind of terrain, how far to next aid, and an idea of how long it might take. Aid station to aid station and then reset. Keep it simple when you can.
Coming off long forest roads I was looking forward to the section around Tarawera Falls. I had a really good section here, able to run comfortably and keep moving up all the stairs and climbs up and around the falls on the way to the Outlet (103.7 km). Looking forward to reaching the Outlet for my drop bag and a full change of clothes I spent a little more than ten minutes here. A longer stop but worth it to refresh and reset (after all I was over 100 km in and might have earned it).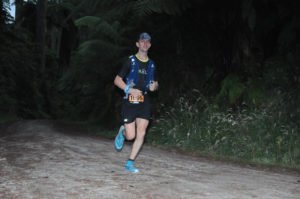 I'm glad I did take some time at the Outlet because the next section was among the most technical of the course. I was very happy to be doing this in the daylight. The track was undulating, narrow and there were a lot of roots and a few trees down as well. Being quite tall and not being great at squatting or stooping, I hit my head a few times here on various bits of trees. Smashing your toes front on into tree roots gets a bit tedious after a while too. In terms of race pace things definitely slowed down from this point – I think as fatigue sets in more deeply the mental battle begins to take over. At that point all you can do is keep yourself calm, have a drink and something to eat and pay attention to where your feet are supposed to be going for the next few steps. Thinking that you have another marathon to go at this stage is not a great idea.
I took a bit of a risk as daylight was fading and decided I'd leave my headlamp in my pack until I reached the next aid station. There should be enough time and I can see well enough to keep going the way I am going. Naturally, it was further than my depleting arithmetic skills allowed and while I stuck to my decision I did end up pulling out my light in the last kilometre or so before Okataina (120.9 km).
The next section was strangely a very good section for me. Maybe the cheese toastie and the caffeine boost from a gel at the aid station helped get me going. Plenty of climbing here but I moved up with purpose and ran everything in between. It was also 16.4 km to the next aid station so I was lucky I did move well here. Seeing a possum try to scramble up a tree to avoid me, only to fall straight off was a lot more amusing than should have been. Approaching Millar Road (137 km) I met a local runner who took off on the last few downhills. I gave it a go myself and chased him all the way. A welcome surprise given the fatigue at this point. His strategy seemed to be to have a "lovely cuppa" at each aid station. Whatever works for you I guess.
Between Millar Road and Blue Lake (149 km) I probably had a bit of over confidence which was soon crushed on loopy and seemingly unnecessary sections of windy forest with roots and tree debris galore. I spent most of this section alone and all of a sudden my headlamp died. After a "what are you doing?" and a couple of other abuses directed at the light I was glad I had my spare battery handy and once I could see enough I made the change. It was around this time I had my third or fourth wave of real fatigue where my eyes were heavy and a bit of a sleep seemed like a good idea. I hadn't really prepared for this but figured gels with caffeine and a bit of extra sugar would be a decent short term solution until the next one.
Blue Lake had pizza and coke and a short sit down for me to build myself back up into what I was hoping would be one last slog to Redwoods (158 km) and onwards to the finish (165 km). I was genuinely surprised when someone told me I looked really good and ready to finish it off. Definitely didn't feel that way.
Around the top of Redwoods my headlamp died completely. It was around 4 am and still very dark. I had to continue by using the light on my phone which was enough to see the ground in front of me but not enough to see the reflective tape on the trees. It was hard enough looping around then descending down large steps, now I had very poor visibility. At least from Redwoods I knew the terrain was more open and I'd be okay with low light. At the bottom of the descent and not too far from the final aid station (158 km) a very kind spectator just gave me her headtorch and wished me luck. Huge boost of confidence until I realised that rather than 5 km to go it was 6.9 km to the finish. No stopping at the aid station I waved my thanks to the volunteers and headed to the finish.
The finish line was a bit of a blur. I was just behind a 102 km runner or walker, heard my name and a couple of words from spectators and that was that. Pounamu earned.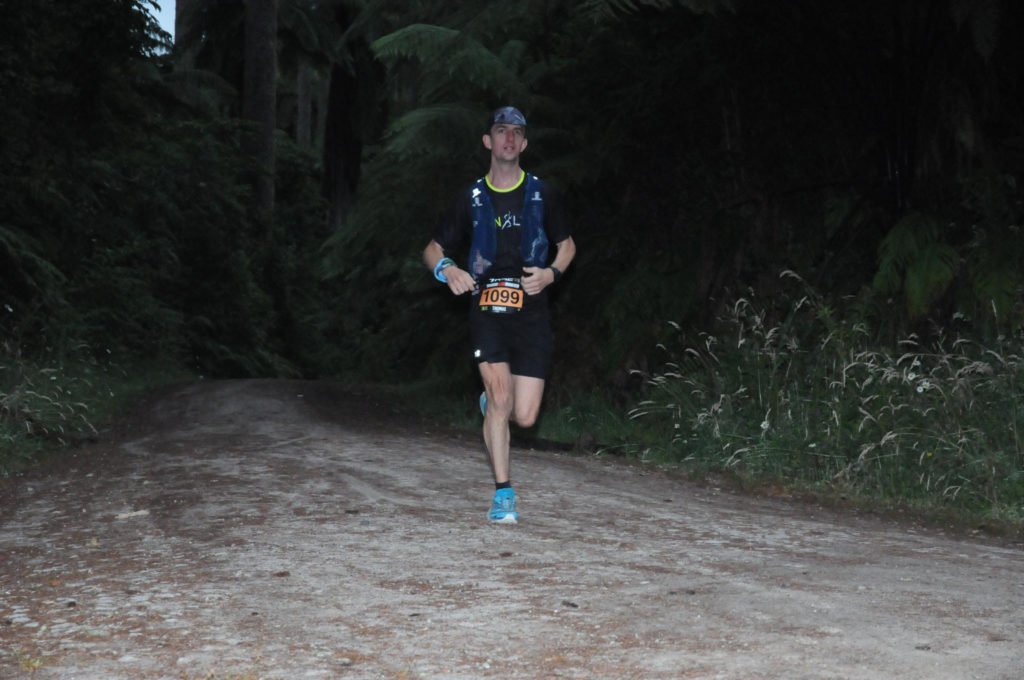 The result….
I ended up finishing in 25:26:35 which placed me 37th out of 199 finishers. I managed to better my 2019 effort by 3 hours and 8 minutes, on a longer and tougher course. To get to this point was a LOT of work!
Acknowledgments:
I am indebted to so many, not just for the last 10 months, but to so many amazing people I have met since my first trail race in 2016.
Firstly to the Runlab coaches and every single athlete I have trained with. So many great people in such a good community make running even better. Asking Vlad to write me a run program might have been the best move I have ever made, and much like in training I had the pleasure and privilege of chasing him on the trails in the race. He ended up destroying the course record. Thanks to Benn, particularly for helping me get through the injury with training in the gym and some really good advice that I will continue to follow.
Thanks to my physio Paul who got me through the injury. He did make me promise not to race my first couple of races.
I have to mention Sydney Trail Crew and Bonus Distance based in Sydney who are largely responsible for getting me into doing longer ultramarathon distances. I still remember "in for a penny, in for a pound" and occasionally say it to myself out on the trails.
About me:
I'm 30 years old and work in allied health. My first race was a road half marathon in 2016 and my first road marathon was in 2017 when the half distance had already sold out. My first trail run was in 2016, first 100 km in 2018 and first miler in 2019.