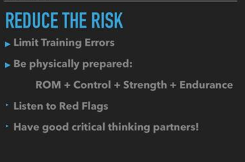 A group of Athletes joined Vlad, Benn and Justin (Hunter Podiatry services) on Wednesday night for a session which included an informative talk directly followed by a RUNSTRONG session. In Justin's talk, particular focus was given to how you can reduce the risks of Injury. This really goes hand in hand with the RUNSTRONG program that we deliver at Runlab and one that I created with UpnAdam's Adam Clarke (We continue to build on what we have created and you will see more in this space coming shortly :))
So reducing the risk… Range of motion, Control, Strength and Endurance! Thats all covered in RUNSTRONG – Simple! Its all functional to running build by runners – for runners. There is simply no other routine available to runners like it. The great thing is that for every exercise we can modify it to suit your ability and challenge you as you become stronger. Many of the exercises in the program I specifically point to as reasons why I have been able to be a winner time and time again, setting my own personal bests whilst not getting injured! The incredible load that Ive put my body under whilst remaining injury free is a credit to these exercises BUT its the way you do it that matters. So please consider if you are giving yourself the best chance of excelling and achieving your impossible!
Every week, I hear a runner openly admit that they were running their best when they were also doing RUNSTRONG. You can do the same.
Well done to those of you that came along on Wednesday night – it was a fantastic evening and we look forward to bringing you more.
Welcome to Term 3